Midsummer is only rivaled by Christmas, but summer. It's summer!
I'm sure you've seen pictures from Sweden, people dancing around a colorfully dressed maypole. Unlike its counterparts from Germany and elsewhere, our maypoles are dressed with birch twigs and flowers. The songs we dance to aren't traditional folk songs, but children's songs including clever lyrics such as "ooh-ack-ack-a" in the evergreen "small frogs" (don't ask…)
Midsummer marks…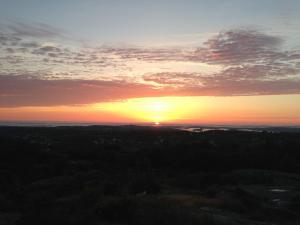 Midsummer in Sweden marks not primarily the middle of summer, but the longest day, midsummer solstice, this year taking place the day after solstice, always on a Friday.
It's really the beginning of summer, but even here in Gothenburg, this week and for another week or two, the sun doesn't set until after 10 pm, and rises just after 4 am. Now imagine further up north. In a small town, I know well, Gávtjávvrie in Sápmi, way up north, but still short of the arctic circle, the sun sets for only one hour. Once you cross the arctic circle, the sun never sets during the weeks around midsummer.
It is our most important holiday, bigger than Christmas. Why? Is it the sunlight? The fact that is is as much an adult holiday as it is for kids? Is it the promise of a long vacation that awaits most Swedes around the corner in July? We'll never know for sure, but midsummer is "da shit" around here…
Eat, drink, dance, sing, repeat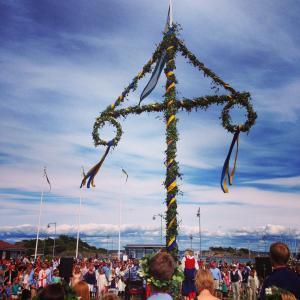 Long days, sunshine, and flowers are key ingredients in our midsummer celebrations, along with the season's first potatoes, small, sweet, delicious, herring in sauce, a Swedish delicacy, and strawberries, also the season's first. And I'm sure you know we consume those with copious amounts of beer and different types of vodka, flavored schnapps etc.
Traditionally, you'd put seven kinds of flowers under your pillow, jump over seven fences and dream of your future partner. These days, you swipe seven times and start over. Sweden is a modern country. LOL
Where to celebrate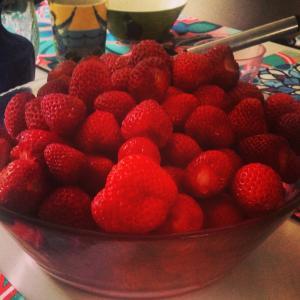 There are many places to celebrate Midsummer in Sweden, and if you happen to be here in Gothenburg, I can recommend the celebration at our amusement park. Always lots of people, professional song, and a great maypole.
Here in Gothenburg, there are celebrations, big and small, all across the city. One of the more famous ones takes place just a few hundred feet from our house, on our island, Styrsö. We have a large meadow where they put up the maypole. You can help decorate the pole in the morning and at four pm, the entire island and a ton of guests gather to sing, dance and have fun together, before we return to our homes for a barbeque dinner. There are several restaurants on the island, so you won't have to starve, even if you're just visiting…
But there are other places you can visit, all around our city. Check out this list from our tourist office.
The weather? Midsummer usually means moving indoors and outdoors because often enough the weather will be typical for the summer: sunshine and rain, changing constantly. For now, the forecast (the most serious topic we discuss these days) seems okay. Trust me, I checked with four (sic!) weather sites. As I said, the weather forecast for midsummer is not to be taken lightly.