Welcome to a personalized, private VIP tour company
Are you visiting Gothenburg for a vacation, a conference, or a business trip and you want to experience our city? Are you a VIP, used to complete discretion? Are you looking for a service that is 100% customized to your specific needs and expectations?
Look no further: Gothenburg Tours is at your service. We speak 🇩🇪, 🇫🇷, 🇸🇪,🇨🇭, and 🇺🇸.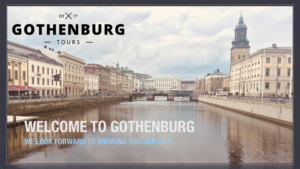 Download our comprehensive and informative brochure, follow us on Facebook, or reach out to us.
You can book your tour right here, using our online booking calendar, download our free guide for inspiration, or ask for further information or a quote by contacting us.
Welcome to our city! Our passion is our promise.
We look forward to sharing it with you. Gothenburg Tours is your personal key to Sweden's West Coast. Don't forget to have a look at our blog. The latest posts are below.