"Smultronställe" is a place you cherish and do not (necessarily) share with everyone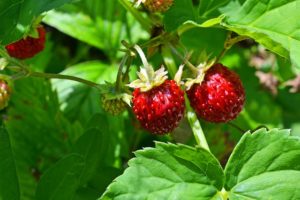 Smultron is the Swedish word for wild strawberries, this super yummy, flavorful tiny berry that kids in Sweden love to thread on a dry grass straw to enjoy in peace and quiet. It's a berry that grows all over Europe and elsewhere, but in Swedish folklore, it has almost magical properties. Smultronställe could be related to either a place where you can find them (that you wish to keep to yourself, just like your favorite mushroom places) or a place where you can sit in the sun and enjoy them.
Over time, the term has been expanded to be used for other purposes, meaning. Today, it simply stands for a secret spot, a place you cherish but do not necessarily want to share with anyone. It could be your backyard, a particular beach etc. And it doesn't have to be "secret" or "hidden" either. But because no one else knows about it, it becomes that, even though it may be a very popular place. "It's in the eyes of the spectator", as the saying goes in Swedish.
Smultronställen can be found everywhere
I recently visited South Korea and had hired a tour guide for a couple of days. He showed me to the places we had discussed, the research I'm doing for my book. After the first day, we were done, and I asked him to show me Seoul off the beaten track, the Seoul of the locals, where you wouldn't see tourists (normally), and I was curious about his favorite spot (his smultronställe) in Seoul. This is where he took me:

Smultronställen around Gothenburg
To understand a smultronställe means seeing that place through that person's eyes, or at least from their point of view. I understood Yaek-Wang's reasoning. It is a serene place, and I think the panorama reflects some of that.
I have many smultronställen to show you here in Gothenburg and the surrounding towns. These are places that speak to me, not necessarily from a historical point of view, but because of their beauty, their serenity etc. They have a purely emotional appeal. I look forward to showing them to you. Feel free to contact me to learn more.