The summer of 2018 will go down in Gothenburg history
Spring was late and lasted all but a couple of weeks. An arctic inversion kept cold air pouring down over Scandinavia well into mid-April when suddenly things changed and a high-pressure system decided to park above us for the summer, bringing us virtually three months of unabated sunshine and literally no rain. You should see my lawn!
One crazy summer makes no climate change, but…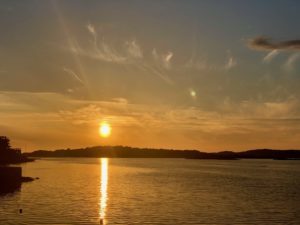 As a "normal" citizen I've been having the summer of a lifetime, with daily swimming in our warmer than usual ocean, daily meals on the patio and a tan that built up over time, you know, the kind you develop carefully, without overexposure? A tan that lasts. Our farmers, however, have been suffering. Without watering (and we're in  Sweden, right, so who waters crops?) crops all over the country have been withering away, there's been no hay for cattle to feed on and at its worst, farmers couldn't even send their cattle to emergency slaughter. The queue to the slaughters were too long.
Papers have been filled with images from NASA satellites showing just how "brown" Scandinavia has become this summer, compared to previous years. And article after article discussed whether this is indeed a sign of things to come or just a "freak" summer.
It IS getting warmer up here…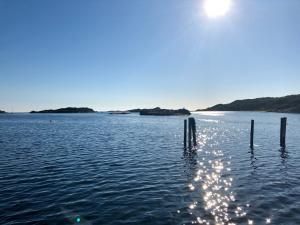 Scientists all agree that one hot summer is no sign of climate change. However, 2018 is well on track to be another hot and warm year, seen on a global scale, and that is where signs of climate change can be tracked. The four years (including 2018) are the four warmest in recorded history. And if you look at weather phenomenon across the globe, things are crazy, everywhere. It seems to me, we keep saying this, year after year, and at some point, denying the impact of climate change becomes mute.
My memory serves me right!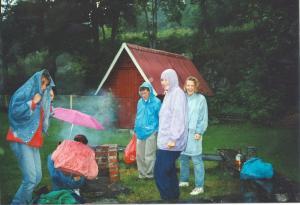 When I first moved to Sweden, in 1992, August was scorching hot, and I was in heaven. Finally a place with decent temperatures. Two years later we endured a cold and rainy, miserable summer. But what I do remember from the first summers after we bought our house is that we were usually unable to sit outside in the evenings, enjoy a glass of wine on the patio. It would be too cold unless you had some infrared heating device. We'd cherish the four or five nights that were the exception to that rule. Summer evenings could be chilly with temperatures as low as 10-12 degrees C (50-54F)
Nowadays, we would theoretically be able to sit outside almost every night, and still now in August, we wake up at six am and the temperatures outside are 18 degrees C (64.5F.) So yes, things have changed in the past twenty-two years that I've lived here on the island.
Climate change and tourism
We cannot deny that climate change is here, nor can we deny that it affects tourism. We have plenty of water (in most parts of Scandinavia) for now, and while our farmers may need help in adjusting their crops and install systems to water them, overall, this peninsula might just be one of the few land areas on the planet that 'benefits' from it all. Warmer and probably wetter.
That impacts our offering with regards to tourism. A shorter winter season will gravely affect the north, where skiing and snow draw people from countries without such commodities. Here in the south, we may have to rethink what we offer and when we offer it. We still see people closing their restaurants in mid-August for vacation, while our ferry company is still operating on a summer schedule, bringing hundreds of tourist to the islands, every day.
Accepting that tourists, for different reasons, will visit us all-year round is an important first step. Once that lesson is learned, we can move on to offering different services to our visitors, according to the season.
What we do, offer
As a small tour company, our focus is flexibility. We can guide you walking, or using public transport, or in our own EV, a second generation Nissan Leaf. We can also try to show you just how the changing weather patterns and climate change affect our city if you are interested. From areas prone to inundation to plans of how the city is preparing for increasing sea levels. Ask us, we're here for you.