Eiffel Towers, Taj Mahals or Grand Canyons are all great, but sometimes, a sign is all you need to get excited
I live on an island, off the coast of Gothenburg. Administratively, we are part of the political city of Gothenburg. Yet often enough, the city feels far, far away. I walk a lot (part of my health regimen) and my island, Styrsö, offers miles and miles of treks through the forest, along our beautiful beaches, and through our four neighborhoods.
Just yesterday I discovered that the organization who looks after our forest walkways put up a new sign, a small gem. I hadn't seen it last week. It made me smile. I love focusing on small details like that.
7,000 years of history on a simple wooden plaque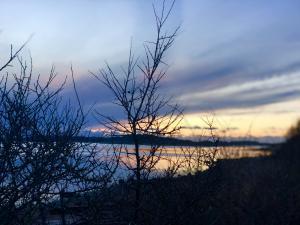 The sign stood below a meadow in the middle of the forest. The meadow is well-known on the island. Open-air festivals and concerts have taken place for a long time. What I didn't know was that this was the oldest place where we've found traces of human habitation on the island. 7,000 years ago, people took boats out to Styrsö to fish (presumably) and they left behind flint.
What surprised me the most is that back then (not a very long time in the grand scheme of Earth's history) the meadow was a beach. Where I stood, reading the plaque, my feet would've been lapped by gentle waves coming ashore. My imagination had been fired up.
Putting the consequences of global warming in a new perspective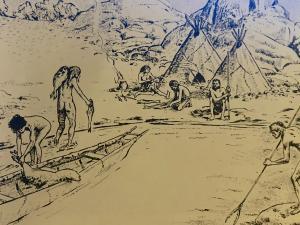 When those first (that we know of) humans visited Styrsö, the sea levels were twenty meters above what they are now. That's a whopping 65.6 ft. I recently read that if all of Greenland's ice were to melt, global sea levels would rise by seven meters. But there's not just the ice on Greenland, let's not forget about Antarctica.
Our house is elevated some eight meters (26 ft) above sea level. By the end of this century, during my son's lifetime, we might actually lose our house to rising sea levels. That's a scary prospect. Yes, over time, and that includes the huge shifts in tectonic plates, sea levels have greatly varied, but the changes that we are experiencing now, are unprecedented in terms of speed. The main reason why our islands have emerged from the ocean isn't due to sinking sea levels, but rising land (as Scandinavia had been pressed into the Earth's mantle during the last ice age. It is still rising to this very day.) It took 3,000 years for sea levels to sink ten meters, it might take less than 300 for them to rise again… Details on a walk, but mind-boggling in the great scheme of things.
One small plaque had me thinking for hours…
As a tourist, I tend (like most) to focus on the big things that a new destination has to offer. Yet oddly, it is often the small discoveries that will excite you the most. A flower, a tree, a facade or why not a wooden plaque informing you about an unexpected detail of a place's history, whisking you away to a distant past, igniting your imagination, almost like a great book.
A great tour guide will be able to show you these small places, these details in the shadow of the grand tourist attractions that beckon us from afar. By all means, enjoy the towers, the monuments, but don't forget to spend some time hunting for the small details. They might prove to be more memorable in the long run.
*Styrsö från Istid till Nutid, ISBN 91-85488-03-8